Moving in today with some High end Tools....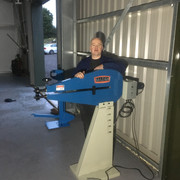 Electric powered Baileigh 910cm throat Bead Roller ..... this thing is massive i'm 5 foot 10 LOL.
Great for 1" wide /deep beads in LCV panels.
Will ask my Partner for a Club hourly rate.... for Restorations servicing and custom work.... Our company also has links to a massive engineering firm with a laser cutter as big as my 3 bed house .